The ideal choice for DIY enthusiasts and professionals alike, the 400 x 86mm Drawer Runner Kit & Drawer Slides gives you everything you need to fix your own drawers. The tough metal drawer sides allow you to use your own drawer fronts, and with the huge weight capacity of 40kg, they'll be strong enough for any room in the house.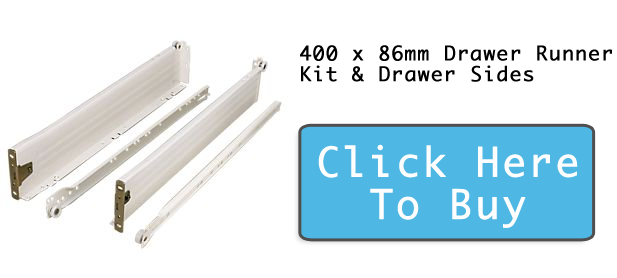 The 400 x 86mm Drawer Runner Kit & Drawer Sides contains everything you need to install your own drawer fronts and bases, and its tough metal sides are pre-drilled to make installation a breeze. So if you want to decide how your drawers look, but you want smooth,reliable movement, nothing beats this fully featured kit.
Thanks to our unbeatable selection of side mounting drawer runners we've got the right runner for every situation, so if you want the best, just pick what you want and let us take care of the rest.
Incredible value 400 x 86mm Drawer Runner Kit & Drawer Sides
40kg weight capacity
smooth, reliable action
includes metal drawer sides
easy to install
adjustable front plate for fixing your own drawer fronts
fixings not included